Organic Flax Seed Oil 1000mg 100 capsules
Flaxseed is just what it sounds like - the seed of the flax plant. The typical use of flaxseed is as a source of the essential fatty acids linolenic acid (LN) and linoleic acid (LA). Flaxseed oil is about 57% LN (an omega-3) and about 17% LA (an omega-6). LN can be converted into eicosapentaonic acid (EPA) and decosahexanoic acid (DHA) - fatty acids which are precursors to anti-inflammatory and anti-atherogenic prostaglandins. Another beneficial ingredient found in abundance in flax seed is lignan - a phytochemical with potential for cancer prevention.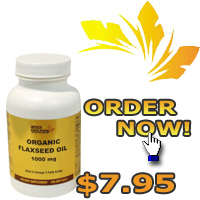 Studies have shown that 40 grams of flaxseed oil each day can reduce blood clotting by reducing platelet aggregation. Regular flaxseed consumption has also been associated with improvements in the ratio of omega-3 to omega-6 fatty acids in the blood - a situation which may offer protection from atherogenesis and relief from inflammatory conditions. A number of animal studies have shown a beneficial role of flaxseed oil in delaying breast cancer progression and preventing against colon cancer - sometimes as much as a 50% reduction compared to control groups not fed flaxseed. A clear and consistent reduction in pro-inflammatory markers (tumor necrosis factor and interleukin) has been noted in human subjects supplemented with flaxseed oil. rolex replica sale, cheap fake watches, hublot replica sale, tag heuer replica uk
Health Benefits: *
Reduces cholesterol
Decreases blood pressure
Reduces arthritis pain
Alleviates inflammatory conditions such as multiple sclerosis, eczema and psoriasis
Directions for Use:
As a dietary supplement, take 1 softgel daily, preferably with meals.
Warnings: Keep out of reach of children. Store in a cool, dry place.
Pregnant or lactating women, diabetics, hypoglycemics, and people with known medical conditions and/or taking drugs should consult with a licensed physician and/or pharmacist prior to taking dietary supplements.
* These statements have not been evaluated by the Food and Drug Administration. This product is not intended to diagnose, treat, cure or prevent any disease.