Ningxia Goji Capsules
<![if !vml]>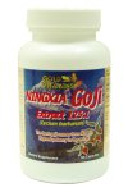 <![endif]>You may have noticed a relatively new health supplement on the market called goji. It is also known as wolfberry, happy berry, matrimony vine and boxthorn. Its Latin name is Lycium barbarum fruit. In its basic form, goji is sold either as a dried fruit or a liquid in the form of juice and even soft drinks.
What is goji? It's a tiny red berry that grows in Asia and the Himalayas. It was discovered thousands of years ago and is recorded in the Chinese Materia Medica as a medium herb that offers a wide range of healing benefits. Today, goji is known for:
Increasing resistance to microorganisms by boosting the immune system
Helping protect against macular degeneration, cataracts and dry eyes (goji contains the world's richest source of carotenoids, even more than lutein!) <![if !vml]>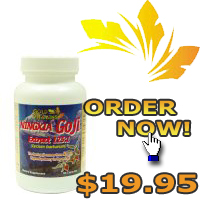 <![endif]>
Increasing energy by improving blood circulation, which warms the body

Reducing the symptoms of diabetes and hypertension

Protecting the liver and providing nutrition to the kidneys
How are Ningxia Goji Capsules more advanced than all other formulations?
It is the only goji product in capsule form—which is more absorbable and convenient than powdered, dried fruit or liquids.

It is the most potent goji supplement available, offering a high

concentration of the goji berry and its active ingredient, polysaccharides.

Other supplements don't even exceed a 50-time concentration. (take out)

The raw materials come from Ningxia, a province in central China that reveres its quality goji so much that it devotes two weeks a year to a goji festival!
Recommended Dose: For general health, take 1-2 capsules a day, half an hour before a meal for three to four months. For those with ill health, take 3 capsules a day. Improvement should be realized after one month. Each bottle contains 70 capsules.